If you spend any amount of time driving around Oklahoma City, you're probably aware of the potential danger of being in a car accident. According to data from the National Safety Council, there were 5.4 million injuries in car accidents nationwide in 2021.
If you're in a car accident in Oklahoma City, deciding what to do in the aftermath is a crucial choice to your overall recovery. In order to make the right decision for you and your family, consider working with our team of experienced Oklahoma City car accident lawyers at Ylla | Gosney. We'll provide you with dedicated legal support. Contact us today for a free consultation.
How Many Drivers Are There in Oklahoma City?
The starting point for understanding car accidents in Oklahoma City begins with looking at the sheer number of drivers and vehicles throughout the city. 2021 data from the Oklahoma Highway Safety Office (OHSO) showed that Oklahoma City has:
This makes Oklahoma City the largest city in Oklahoma in terms of population, but more specifically, Oklahoma County saw:
8,435,244,631 vehicle miles traveled in 2021 alone.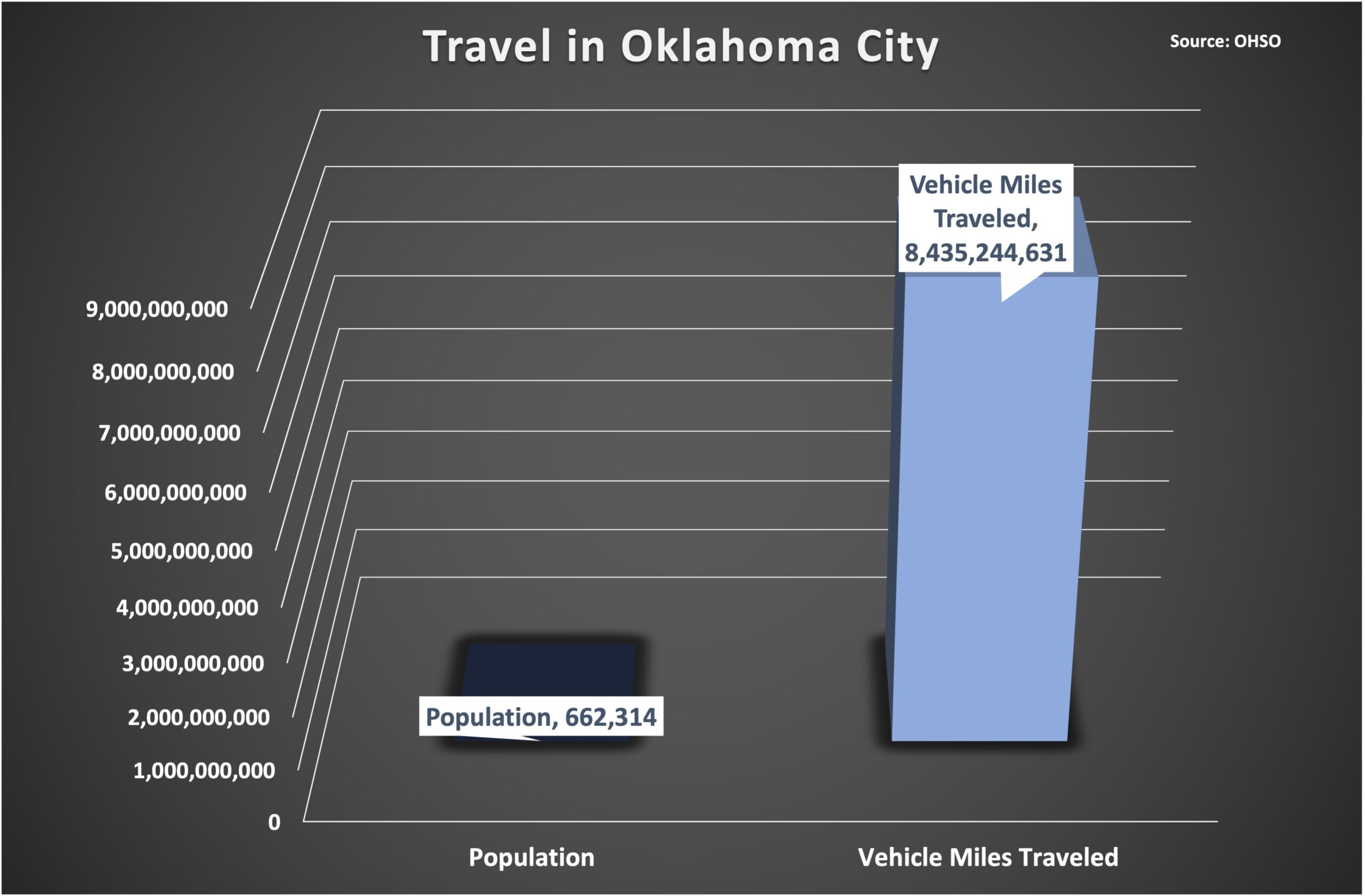 Source: OHSO
What this all equates to is a huge number of drivers and vehicles on the road throughout the city. This, in turn, can result in accidents. The reasons for this aren't complicated–more people on the road means more interaction with other drivers. That said, the more people you encounter on the road increases the chances of an accident in the following ways:
Traffic jams – Crowded roads lead to stop-and-go traffic, increasing the risk of rear-end accidents.
Stress – Heavy traffic can stress drivers, impairing their decision-making and reaction times.
Distractions – More cars can lead to distracted driving, like texting, which makes accidents more likely.
Aggressive driving – Frustration in traffic can result in aggressive behaviors that lead to accidents.
Reduced visibility – Crowded roads can reduce visibility, especially in bad weather that can sometimes happen in Oklahoma City.
More intersections – High-traffic areas of the city have more intersections, where accidents can happen.
Inexperienced or impaired drivers – Oklahoma City's population means that there's a higher chance of encountering inexperienced drivers or people driving under the influence.
Long commutes – Longer time on the road due to traffic can lead to fatigue, affecting alertness.
Merging trouble – Getting on the highway or changing lanes in heavy traffic can be tricky, leading to accidents.
Chain-reaction accidents – A small accident can trigger more accidents in heavy traffic.
Reducing the likelihood of accidents can sometimes be difficult, even impossible in certain cases. However, by following the rules of the road and staying alert, you can avoid most traffic accidents in Oklahoma City. Again, though, sometimes they are unavoidable.
How Many Car Accidents Are There in Oklahoma City?
Not surprisingly given its population and traffic flow, Oklahoma City sees its fair share of car accidents. OHSO data, in fact, revealed that throughout the city in 2021, there were:
1,700 car accidents
2,096 injuries
99 fatalities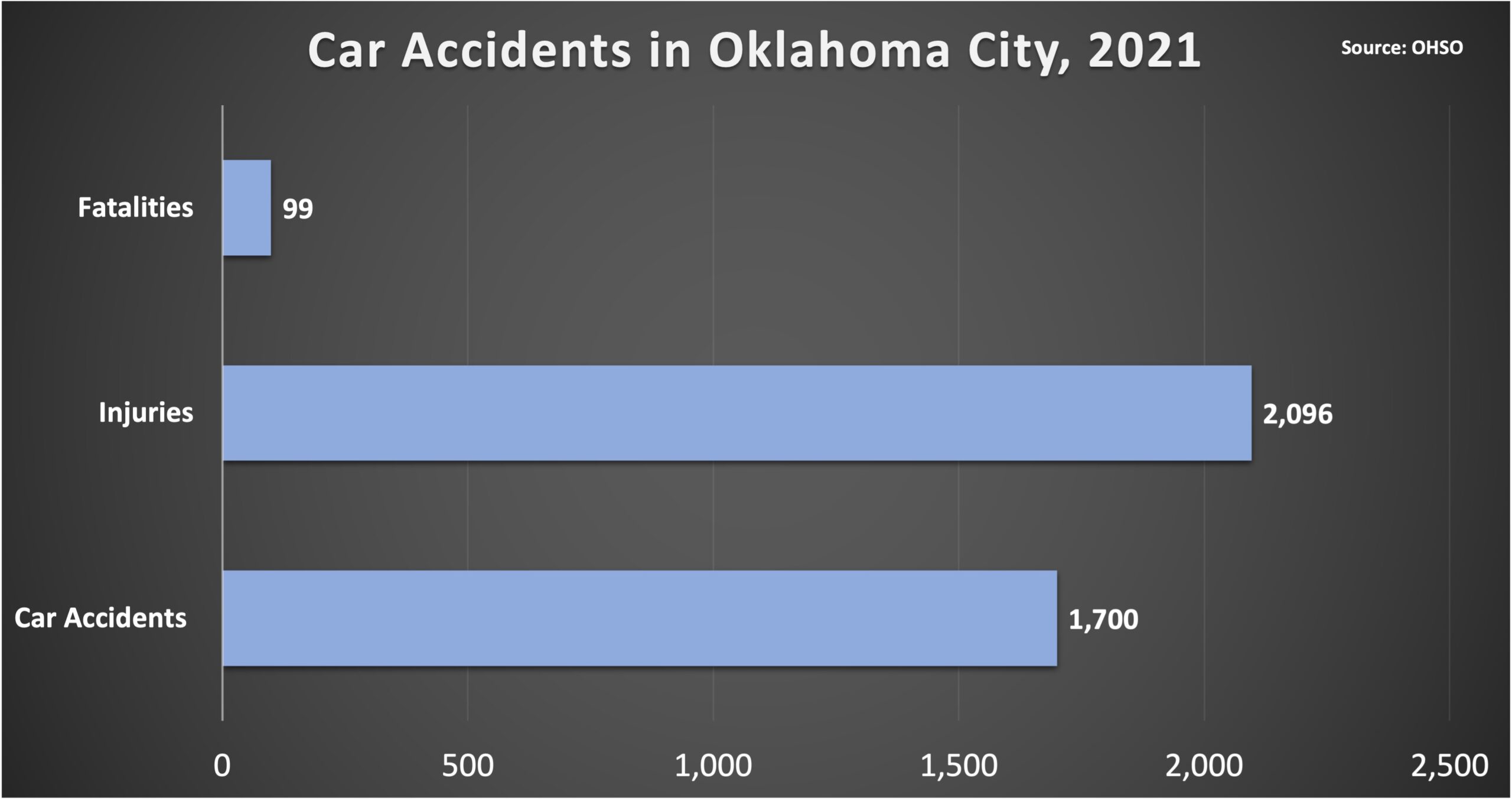 Source: OHSO
What a car accident brings is uncertainty, whether it be your injuries and physical recovery or even hampering your personal relationships. That said, Oklahoma law allows you the opportunity to recover certain damages from the other driver or party that's responsible for causing the accident that injured you. In these claims, and with our help, you could potentially get back:
Medical bills
Repairing or replacing damaged property
Pain and suffering
Lost income and work benefits
While these damages are important to any car accident, there's a variety of other factors that can go into these incidents. Further, being prepared for them and understanding when they're more likely to happen can sometimes be beneficial.
When Do Most Car Accidents Happen in Oklahoma City?
One of the most difficult aspects of any car accident in Oklahoma City is that they can happen when you least expect it. With that said, OHSO data shows that there are certain times where an accident is more likely to happen. Of the 1,700 car accidents in 2021, the most happened:
During the month of June (183)
On Fridays (282)
Between 4:00 PM and 5:00 PM (150)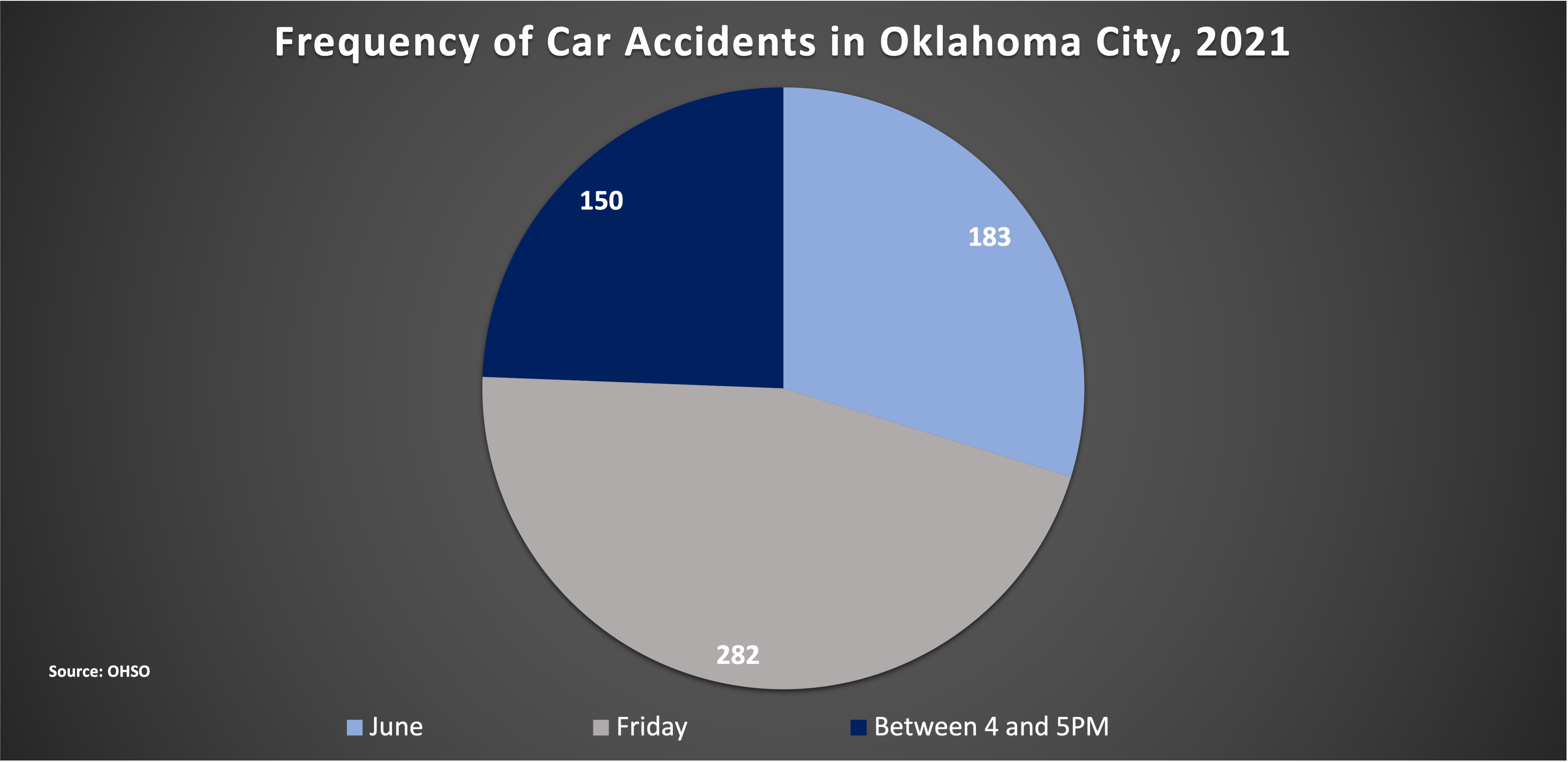 Source: OHSO
As you might expect, accidents are more likely to occur in these windows because of:
Rush hour traffic
Celebrations or excitement for the weekend
Fatigue at the end of a long week or day at work
Traveling for summer vacations
What is the Riskiest Cause of Car Accidents in Oklahoma City?
Any action that causes a car accident in Oklahoma City could be defined as risky. With that said, there are certain actions that are riskier than others, leading to more accidents and unfortunately, causing more damage to you or other accident victims.
When people drive after drinking alcohol, it makes an already dangerous situation even worse. It negatively affects every function of safe driving, undermining:
Decision-making
Fine motor skills
Reaction times
Vision
Focus
DUIs often result  in car accidents across the city, as evidenced by OHSO data that showed 100 alcohol-related accidents in 2021 resulting in: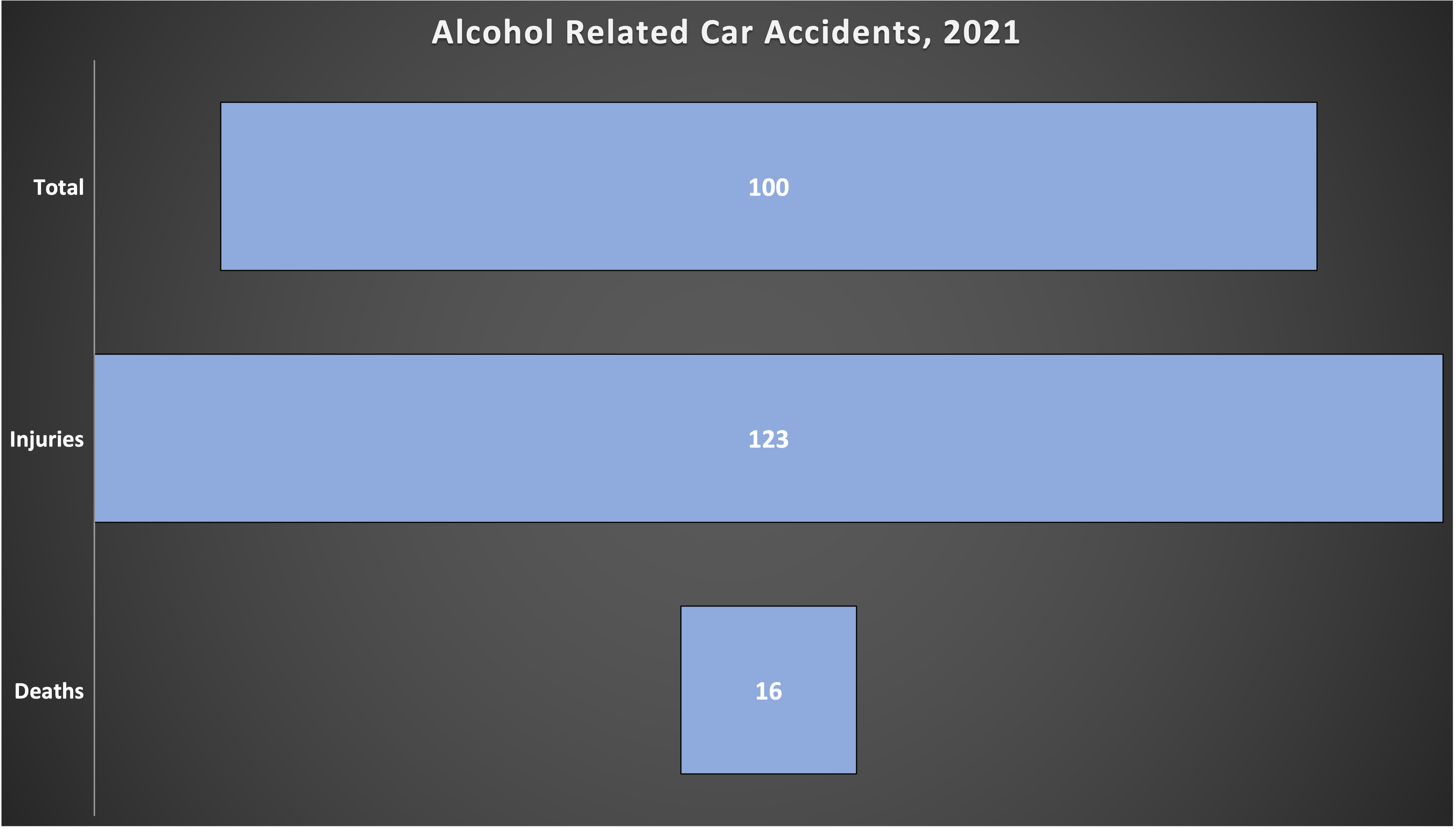 Source: OHSO
Regardless of the cause of the accident, facing the legal process alone can be overwhelming. That's where our experienced team of Oklahoma City car accident lawyers can step in and support you.
Free Consultations For Oklahoma City Car Accident Victims
If you've been injured in a car accident in Oklahoma City, it's a good idea to talk to our skilled car accident lawyers at Ylla | Gosney. We can help you understand your rights and what support you might get from the person responsible for the accident.
Our team is all about giving each client personalized, individualized legal help that matches their unique situation. For more details on how we can help you, contact us today for a free consultation.