Tulsa
Personal Injury Lawyers
Ylla|Gosney Attorneys at Law represents Tulsa personal injury victims after frightening accidents.
We help victims and their families demand full support from negligent parties and their insurance companies.
We want our clients to be able to pay their hospital bills and rebuild their lives. Our skilled Tulsa personal injury lawyers provide free case consultations to all victims.
Contact us today to make sure you understand what your case is worth before insurance adjusters tell you otherwise.
When Do I Need a Lawyer After a Tulsa Personal Injury Accident?
If you suffer a serious injury, like a bone fracture or a Traumatic Brain Injury, in an accident that was caused by someone else, you should speak to a Tulsa attorney. If your accident only involves minor injuries or property damage, you can probably handle the case yourself with success.
But when the cost of hospital care begins to rise, insurance companies and corporate lawyers turn to tactics meant to limit the compensation you receive. Your lawyer would protect you when insurance adjusters tried to downplay your injury and offer you less support than you'll need.
You should also call a lawyer at the first indication that an insurance company is trying to blame you for an accident you didn't cause.
Tulsa Personal Injury Hazards
Getting out and about in Tulsa can leave us at risk of so many different kinds of personal injury hazards. A distracted driver on Tisdale Parkway can fail to look up from a cellphone screen to notice a light changing red. That driver might ram your car from behind to cause serious neck and leg injuries.
Any public place you go, like a grocery store or a restaurant, may have obstacles that make each step a dangerous adventure. There may be a fountain drink spilled across the tile that's sat there for 20 minutes. Instead of cleaning it up, owners and operators left it in place until you could come along to slip causing you to break a wrist as you reached out to catch yourself.
In each case, a motorist, or an owner or operator can be held liable for their lack of care shown towards other drivers or for their customers. The insurance companies representing these careless parties are in place to help victims, but often, they focus on trying to keep financial support out of the hands of injured victims. Your Tulsa personal injury lawyer is your safeguard against these tactics. Your lawyer fights to make sure you receive the most compensation possible for every hardship you and your family have endured.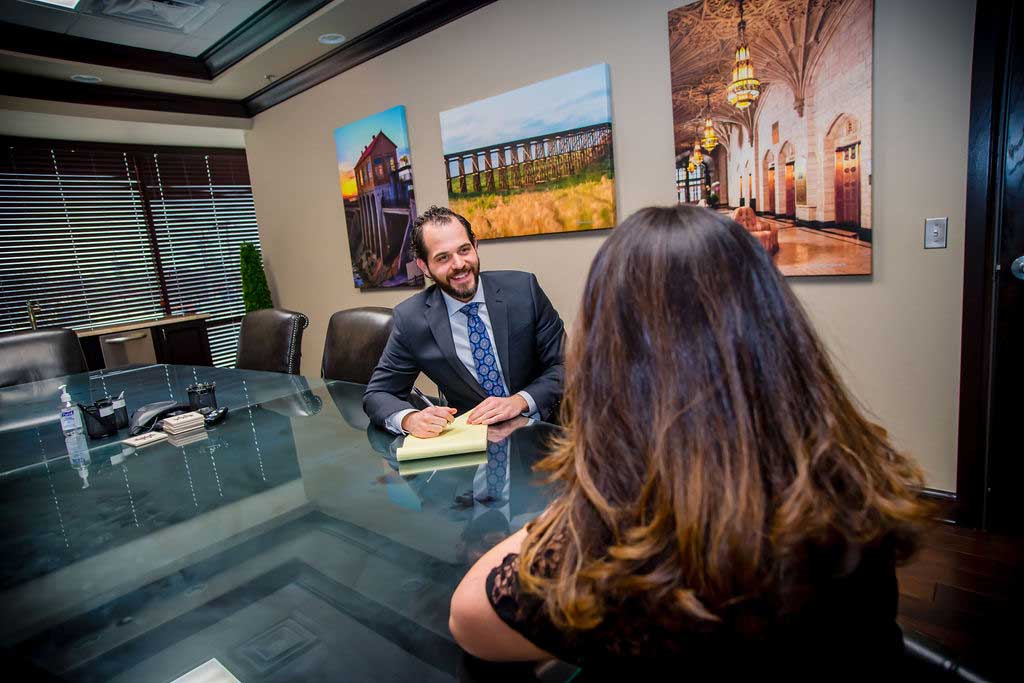 The Types of Personal Injury Cases We Help Tulsa Clients Win
These are just a few of the types of personal injury cases we help our clients win:
Routes like 71st Street and I-44 carry uninsured motorists, and even intoxicated drivers that put everyone at risk of dangerous impacts. Our Tulsa Car Accident Lawyers fight for victims hurt by the carelessness of other motorists and earn them the support they need to pay for the best medical care available.
Tulsa motorcyclists know all about the carelessness of local drivers. Our Tulsa Motorcycle Accident Lawyers fiercely defend injured riders when insurance companies attempt to unfairly blame them for accidents. We demand full compensation so that motorcyclists can heal and return to the motorcycle rides they love.
Semi-trucks and tankers can push local drivers right off the road. A truck driver's careless mistakes can cause devastating accidents with other motorists. Delivery drivers for companies like FedEx speed through our neighborhoods and often cause frightening collisions. Ylla | Gosney Attorneys at Law holds truck drivers liable for their mistakes and we also demand support from the companies that send them out on our roads.
Pedestrians face serious dangers whenever they must cross a busy Tulsa intersection. Careless drivers should be held fully accountable when they strike defenseless people traveling on foot. We all become pedestrians when we park our cars and get out into parking lots and we can all suffer traumatic injuries in an impact. Contact our pedestrian accident lawyers if you are run down by a reckless motorist. We can also help if you are the victim of a hit-and-run driver.
Cyclists in Tulsa can choose to travel in bike lanes in some areas, but not even these paths can protect them completely from careless drivers. We are advocates for safe bike rides for all ages. When a cyclist is hurt by a careless driver, we take up the fight against unhelpful car insurance companies. Our bicycle accident lawyers work to get victims the money they need to get the best care available so they have the best chance of returning to their bikes.
Oklahoma holds dog owners liable for dog bites in most instances. That means dog bite victims who suffer wounds at places like Biscuit Acres Dog Park can ask for extensive support.  Our Tulsa Dog Bite Attorneys hold the owner of that dog fully accountable for all medical bills and your lost income while missing work.
Slip-And-Fall and Trip-And-Fall Accidents
The corporate owners of chains like Walmart or Reasor's are responsible for your safety. When you are hurt inside or outside a business, you are empowered to file an injury claim and ask the owners and operators for financial support.  Our skilled Slip-And-Fall Lawyers take on large corporations and local companies on your behalf. We won't let you face corporate lawyers by yourself.
Every person that owns, manages, or lives on a piece of property in Tulsa has a responsibility to keep you or others safe. When that doesn't happen, you can get hurt–sometimes badly. This, in turn, leads to financial problems, problems at home, and problems at work. In short, it can turn your life upside down.  When someone neglects their duty to keep you safe, we can help you hold them accountable with a premises liability claim.
A product, appliance, or tool you order and use in your home might one day malfunction and create a hazard for you or a family member. Our skilled defective products attorneys can hold retailers and manufacturers fully liable for any harm their products cause.
Families who tragically lose a loved one due to someone's mistake are encouraged to seek support to avoid a financial crisis. Oklahoma allows close relatives to file a wrongful death claim to seek help with medical and funeral costs. A claim also seeks to help replace the income the deceased can no longer provide to family members. The loss of guidance and care is also something that should earn additional support for family members in a wrongful death settlement.
What is My Tulsa Personal Injury Case Worth?
It's very hard to assign a cash value to your personal injury case without knowing the details of your case. Every case is different. Every injury is different. The amount of time it takes for victims to heal from their injuries will play a big role in the amount they may see on a settlement check. Yet, every person heals differently.
Your Tulsa Personal Injury Lawyer will listen to you during your consultation and then set out to fully investigate your case and the at-fault party. It's the only way to get a clear picture of the level of compensation you should expect and demand.
These and other factors will all help determine the size of your settlement or judgment awarded in court:
Totals for current medical bills and those expected in the future.
Estimates on the lifelong support needed for victims left with permanent physical disabilities.
The level of support appropriate for the physical pain victims are forced to endure.
The level of support deemed appropriate for the emotional trauma victims are forced to cope with.
Totals on the travel expenses victims must pay while they are off their feet but still required to go to doctor's appointments and consultations with surgeons.
Totals on lost paychecks and benefits victims lose while down and unable to work.
In the case of wrongful death, totals on funeral bills and medical bills left behind by the victim. The lost weekly income the family could no longer count on from the deceased in the future would also add to any wrongful death award.
The negotiating skills of your attorney. There's no set amount for any personal injury award, so that means having an experienced personal injury lawyer with strong negotiating skills might make a difference of thousands of dollars in your settlement totals. A lawyer who builds a strong case and backs it with evidence will be in a position of power to demand more for a client. Insurance companies sometimes go further to keep victims with lawyers happy so they don't risk being dragged into court.
Frequently Asked Questions
How long can I wait to file a claim after a Tulsa accident?
Two years. Oklahoma allows a statute of limitations of two years for victims to file injury claims. You should act well before this deadline. Evidence and witnesses are easier to track down in the early going.
Who can file a Wrongful Death Claim After a Tragic Tulsa Accident?
The personal representative of the deceased, usually named in a will, would file a wrongful death claim. The deceased's close relatives like a spouse or children, and sometimes the victim's parents would be represented in this claim. A wrongful death lawyer would help make sure clients received what was fair when assets were divided.
What if I can't afford to pay a Tulsa personal injury lawyer?
You won't need any upfront money to hire Ylla | Gosney Attorneys At Law. We don't accept payment unless we win your case. Then our fee comes out of the settlement you receive. We also can adjust our fees to make sure you keep what you need to rebuild your life.